On his way to market to sell eggs, Simon the Cyrene is stopped by Roman soldiers and ordered to help Jesus carry his cross to Calvary.
Three days later, Simon rejoices when he sees that not only has Jesus risen from the dead but his eggs have been transformed into a colorful new gift from Jesus—the first Easter eggs!
Ages 4 to 8. A good read-aloud for the whole family.
Told with a lively narrative and brightly colored, satisfying illustrations, this is a good story to choose for read-alouds, opening up an opportunity to discuss the many aspects of the Easter story. (Bookology magazine)
Easter can be a mixed-up holiday from a child's point of view. What does coloring eggs (and then hunting for them) have to do with the death and resurrection of Jesus? Terri DeGezelle's picture book offers an imaginative approach to that question. She blends the story of Simon, who helped Jesus carry the cross, with a German legend about Simon's eggs changing color after Jesus rose from the dead. I had never heard of this legend, but I love the idea of it! At the end of the book is a historical note about Simon of Cyrene, which will be helpful for parents who want to discuss the story with their children. The note will help readers distinguish between what's known, what's speculated, and what's imagined. There's also a prayer for courage and compassion—a nice addition for a read-aloud with a parent. (Nancy Loewen)
This book should be in every home and child's Easter basket. It is one to be read every Easter season. The illustrations complement the text. (JoAnne Griebel, Catholic Library World)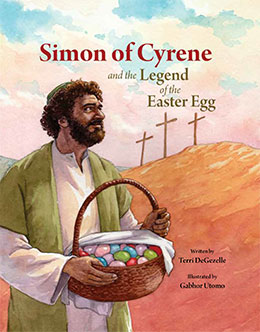 written by Terri DeGezelle
illustrated by Gabhor Utomo
published by Pauline Books & Media
ISBN 978-0819890702